Main Newsletter
Mixed Species Pasture Aug 2020
Twelve months ago we were challenged to prove the dry matter returns of our mixed species pasture. I suggested 22,000 kg/ha of dry matter would be likely but we were challenged to trail this in Taranaki. Using a cage method, cuts were started in July 2019. Hills Laboratories weighed and tested the pasture samples. By December 2019 it became apparent that the end result would be better than 30,000 kg/ha of dry matter which was above our expectation. 34,725 kg/ha of dry matter was, in fact, the full years yield return.

This result compares very well to irrigated dairy land in Mid-Canterbury. This dairy land has center pivot irrigation and receives regular urea applications whereas our mixed species pasture has incurred none of these costs but is achieving comparable results.
If one dairy cow eats 5,500 kg/dry matter per year, our mixed species pasture trial would support roughly 6 cows per hectare. Even if we achieved a dry matter result of twenty percent less and reduced our cow numbers by the same amount, we would still be able to support 4 cows per hectare. This is still well above the national average and not a fodder beet in site!

How is it that you can grow this much feed?

Below is a graph of the dry matter results over the year of the trial:
As you can see from the graph above, the average return in summer and winter is relatively similar. This is achieved by using winter active species in the mixture which means no spring blow out and all plants get to enjoy a view of the sun over the year.
It is not a myth and we have shown that. Mixed species pasture can be very productive.
Remarkable Rubitas Results June 2020
Clover growth is now underway for the coming season here in Marlborough. There has been little rain, but shorter daylight hours urge the plants on.
A follow up visit on a spring sown mixed species pasture near Renwick shows Rubitas red clover as a dominant clover. It is easily recognised by the large white marks on its leaf.
The growth on show is very impressive. This will provide nutritious feed for livestock over the coming spring and summer as red clover is rich in protein, minerals and soluble carbohydrates. Rubitas is a short, prostate red clover and as a result of this is more suitable for grazing than hay making.
The most exciting feature about rubitas is its stolons above and underneath the ground. These stolons increase the tolerance to extended periods of grazing over other red clover varieties. This, together with its deep taproot make it an ideal candidate for summer dry, east coast pastures and a great companion for cocksfoots, megatas and herbs such as plantain and chicory.
Be sure to consider Rubitas next time you come to us at Kiwi Seed to help plan a new pasture mix.
Marlborough Popcorn Harvest 2020
The popcorn harvest is underway. Two mushroom varieties now dried and stored in our silos ready for machine cleaning. Both harvested crops were situated near Seddon and were under irrigation. Irrigation is essential given the dry summer experienced here in Marlborough and across several east coast regions. The other crops are north of Blenheim, toward Picton. In this area rainfall and soil moisture is high enough to finish popcorn in all but the extreme circumstances. Popcorn requires a good amount of heat to mature which is similar to the conditions needed for maturity of long season maize. Marlborough is considered borderline for this requirement due to its latitude.
Growers enjoy the crop. It is reliable with a good return for a broadacre venture.
Another niche market filled by Kiwi Seed.
Above: Popcorn undergoing the cleaning process.
Blairich visit June 2019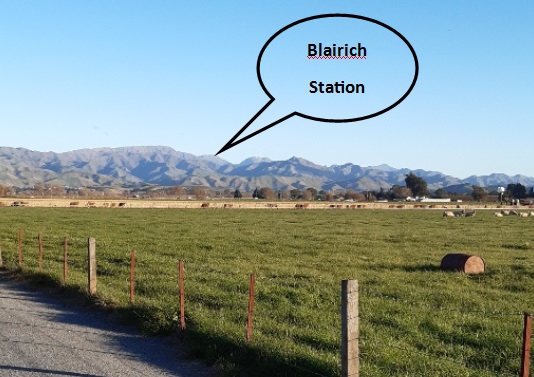 Friday, June 14, 2019.

Thanks to Tom Small, I enjoyed a short visit to Blairich Station on Friday afternoon.
For some years now Blairich Station, under the present ownership, have steadily changed the make up of their pastures to better fit merino sheep and Marlborough's dry climate.

Fescues, cocksfoot, sub clover, plantain, chicory, and in the past few years some top flowering annuals, balansa and arrowleaf clover.

All these species can be found within the sward, of particular interest being the arrowleaf clover, whilst present the numbers were not high, Mt Barker sub clover being the dominant legume on show. Rated as very soft seeded and replaced by more persistent cultivars, I would question the decision as Mt Barker at Blairich is very much a resident, sown 50 years ago, what more do you need.

Top flowering annuals are very productive, but require hot summer days (Feb) to soften the naturally hard seed content. Management can assist this process, select a few fields in a rotation, overly graze mid summer (Feb), bare the soil, raise the temp at ground level, this will greatly assist plant numbers in the autumn and insure the coming growing season.

In a temperate climate no single plant will provide for 4 seasons, but a combination of plants go a long way toward this, that is, mixed species pastures, the evidence is building.
Bruce