Wildflowers and Herbal Leys
For custom designed wildflower blends and herbal leys contact Maren or purchase a Kiwi Seed blend packet of the counter, enough to sow 100-150 sqm.
Kiwi Seed specialty pasture mixes: enquire today
Equine (Non-rye) mix: A mixture of Brome grass, herbs and beneficial species to offer balance and diversity for horses.
Equine herbal ley: combination of plantain, chicory, yarrow, burnet, lotus, calendula and thyme. Great along the fenceline or add to our Equine pasture mix.
Pasture Patch: A combination of grasses and clovers to repair, oversow or replenish a under-performing or damaged area.
Stop Bank: A deep rooting mix of fescue, ryegrass and clovers to promote a healthy thicket.
Rabbit and Guinea pig mix: selection of grasses, clovers and herbs
Kiwi Seed green feed chicken mix for greenfeeder or trays
a selection of different clovers, herbs, grasses, vegetable seeds
Making your own greenfeeder is easy.
1) Build a wooden frame e.g 50x 100 mm, cover with wirenetting, attach netting to frame. 2) Sow the seeds, sprinkle a bit of compost over top and water in. 3) Sit back and watch plants grow through netting - your birds will love you for it.
Printanor garlic in store now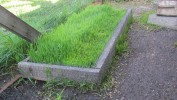 consistently round white bulb, medium size with excellent storage ability
buy a bulb or more
Garlic is easy to grow, plant around shortest and harvest around the longest day, packed with flavour and health properties.

Broad Beans
small packs or larger quantity, seed available
sow autumn/ winter/ spring

New variety: Hughey (crimson flowered - green seeded, great taste and awesome flowers)
Classic varieties: Coles prolific, imperial green and exhibition long pod
Coles prolific - growing height about 1.3 m, with pods 20-25 cm long
Imperial green - growing height about 1 m, matures in 90- 120 days, beans retain their attractive bright green colour when cooked
Exhibition long pod - Commercial growers choice. Grows vigorous 1.5m-high plants that produce thick, fleshy pods up to 30cm long.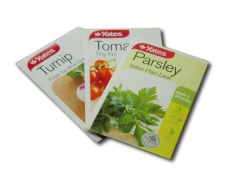 Vegetable seed
check out our range of vegetable seed while you are here.
Yams - out of stock